I have been asked by the local high school shop teacher to to the calculations and draw plans for a reverse flow smoker for one of his night school students. I have only done that for two so far. The
one that they built for me
(which I am pretty happy with) and another one for the metal shop which is still in the works.
But this student wants to build one with an octagon cook chamber and (thankfully) a square firebox. So I found an octagon volume calculator and put some numbers in the Pit Calc to come up with the appropriate numbers.
Below is a rough drawing of the end view. The resolution on the dimensions are a bit high but the shop does have a CNC plasma cutter.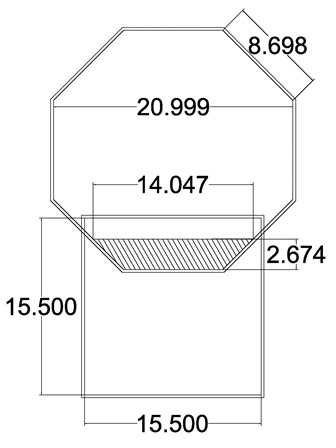 Not having a lot of experience building pits, I have several questions and concerns.
Does the FB to CC opening look to small? The area according to the Pit Calc should be 29.79 square inches and the area in the drawing is 30.34 square inches so it calculates fine but it just looks small. Should it maybe be not as wide and taller? An 8" x 3.75" opening would equal 30 square inches.
I'm not sure where he wants to put the bottom rack. Obviously on an octagon the widest point can be below the center but if it is too low, assuming the RF plate is 3" below that, I'm concerned that will really restrict airflow. What should the minimum distance be from the bottom of the CC to the baffle plate?
Also is the baffle plate generally even with the top of the firebox? I seem to remember being told that when I designed mine and that's the way it was built and seems to work fine but I just want to confirm.
Thanks for your help.
Dave