I joined this forum a few weeks ago. Been reading everything I can find and blowing YouTube up with the smoker building videos. I started my build yesterday. I am in a bit of a different situation than most. I have a full fab shop at my disposal Waterjets, plasma, brakes, saws, etc. It doesn't really make sense to program the robotic welders for a smoker though.
I ordered my material and began work on Saturday. It's quote hot here this time of year, so only a half a day on Saturday and a few hours this afternoon. I felt like I spent a full day standing in front of the saw, but I can imaging that it was exponentially less time than if I was cutting the tubing by hand. I feel for you guys.
Oh, an I figured if I was going to build a smoker, I might as well build two. I have no idea why I am building one this big, or why two, but that is where I find myself.
I was able to set up all four pieces in the saw and cut them all at once. Made absolutely sure that the pieces were the same length.
Because even welders wear shorts in August….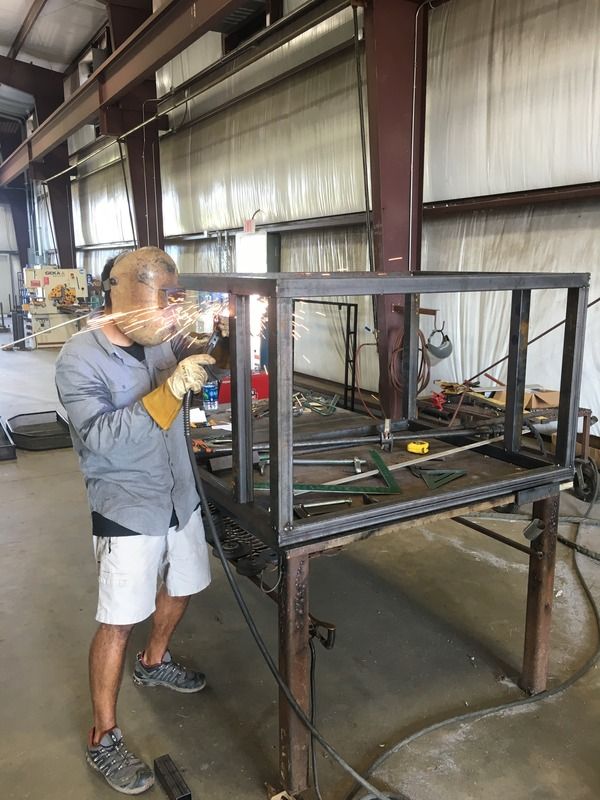 Ended with two insulated, welded, and ground frames. Going to work on the inner panels next weekend if I can get free. Planning to brake two corners and weld in the other two. I'm also considering welding in a flat bottom and just building a removable drippings pan. It seems like I am going to have to clean out the bottom anyway, and the ability to remove it for cleaning sounds better to me.